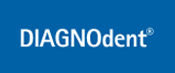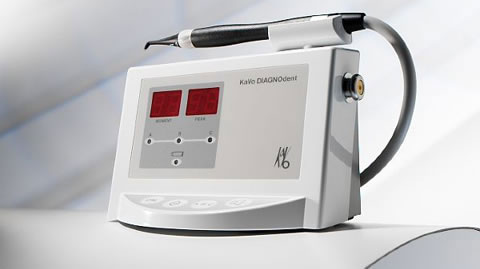 Our office uses breakthrough technology to help us get a more accurate diagnosis of our patient's dental problems. We use DIAGNOdent for detecting and quantifying caries more effectively. This device utilizes laser technology which enables it to see hidden caries by measuring the amount of laser fluorescence within the structure of the tooth.
It operates at a wavelength of 655nm which means that clean healthy teeth will exhibit little or no fluorescence, while tooth structures that house bacteria will fluoresce.
Aside from fluorescence, the device is also equipped with an audio tone which will enable the operator to hear any changes in the values of the scales. That way, the operator can focus solely on the patient and not have to check and re-check the device.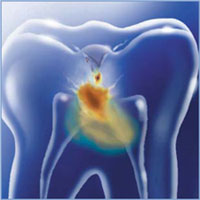 This tool is highly accurate and reliable. It's also non-invasive so the patient does not have to worry about any risk or pain. It's been awarded by the ADA the Seal of Acceptance and has been used successfully by over 18,000 dental practitioners in the United States.
Benefits of DIAGNOdent
Highly Accurate – It boasts of a 90% accuracy in detecting lesions that cannot be detected in X-rays.
Conservative – It doesn't require any exploratory excavations of the tooth structure or under-treatment of the teeth.
Measurable – It gives dentists precise measurements so they can have a more objective monitoring of caries.
Safe – There is no radiation exposure so the patients and staff are not exposed to any risk.
Painless – As a non-invasive diagnostic procedure, it does not cause any pain or discomfort to the patient.
DIAGNOdent Exam
DIAGNOdent enables our dentist to detect caries even at a very early stage so that problems can be treated before they get worse. For more information, please schedule an appointment with our office by calling (239) 939-7070.
Conventional Exams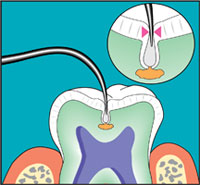 With conventional instruments, it is generally not possible to probe drop-shaped fissures.
DIAGNOdent Exam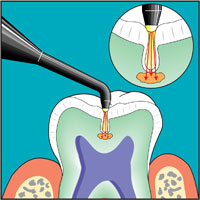 DIAGNOdent has the great advantage of detecting caries in the very early stage by measuring the laser flourescence within the tooth structure.